Time Tracking and Hours Reports in GitLab with GTT
GitLab has time tracking (caveat: Unfortunately this is the Enterprise Edition, not the fully Free Software Community Edition). See:
What it doesn't have is any evident way to see, in a reasonable overview, this time that's been tracked.
I got no responses asking this in #gitlab on IRC: Is there any UI for seeing tracked time by person? I can't find it (or any project overview of time tracked) and it's not documented if there is. As a fallback, is there a way to export this time estimate and tracked information? I'm on GitLab.com but we might go self-hosted at some point, so i'm interested on info about both. https://gitlab.com/gitlab-org/gitlab-ee/issues/1228 didn't have much.
Never did find the documentation for the API of getting tracked time. But i found an awesome tool that makes full use of that API:
https://github.com/kriskbx/gitlab-time-tracker
Installation
Installing that command line wonder was pretty easy.
Upgraded Node on my system with: https://nodejs.org/en/download/package-manager/#debian-and-ubuntu-based-linux-distributions
Installed Yarn per this: https://yarnpkg.com/en/docs/install#linux
And then followed the installation instructions: https://github.com/kriskbx/gitlab-time-tracker#installation
Usage
gtt report "uc-davis/patient-hm-brain"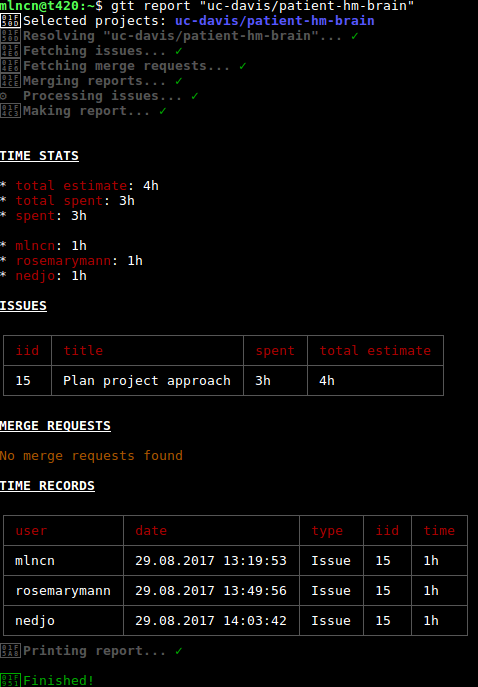 Searched words:
GitLab timetracking output report